A Special Message from Our New Gala Chair: Lin-Manuel Miranda
From its inception in 1990, the Hispanic Federation has been a central part of my life. It began with fond memories of visiting their office as a child while my father Luis Miranda, the Federation's Founding President, worked tirelessly to empower Latino nonprofit organizations. As the Federation has grown to serve over 100 Latino grassroots agencies, and uplift hundreds of thousands of families annually, my personal commitment to its mission has also expanded. This is why I'm writing you today.
I am deeply honored to ask that you join me and Federation President José Calderón at our Spring Annual Gala on Thursday, April 20, 2017, at the American Museum of Natural History in New York City. As a past Gala attendee who has marveled at the great supporters and talent who have rallied for the Federation, I am humbled to now serve as its Gala Chair. This year we'll come together with hope and optimism to recognize people and organizations who take Hispanic causes to heart. I promise you an unforgettable experience!
I'm certain you'll be impressed by this year's honorees. We'll celebrate Morgan Stanley with the Corporate Leadership Award for their consistent dedication to the Federation's work and mission. We are also thrilled to present the Premio Orgullo to restaurateur and TV celebrity Chef Aaron Sanchez. And – wait for it – Gloria and Emilio Estefan will join us to receive a much-deserved Legacy Award. All will be fêted while we enjoy ourselves "Federation style" with music, dinner, dancing, and a star-studded program.
As a past supporter of the Hispanic Federation, you inspire me with your commitment to our shared cause and values. This year we need you more than ever. Please consider joining us as a leading sponsor. This is our shot to ensure that the Hispanic Federation is able to defend, advocate and uplift the Latino community now and into the future. See you on April 20th!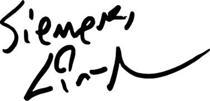 Lin-Manuel Miranda
Gala Chair