Healthy Parks: Healthy Latinos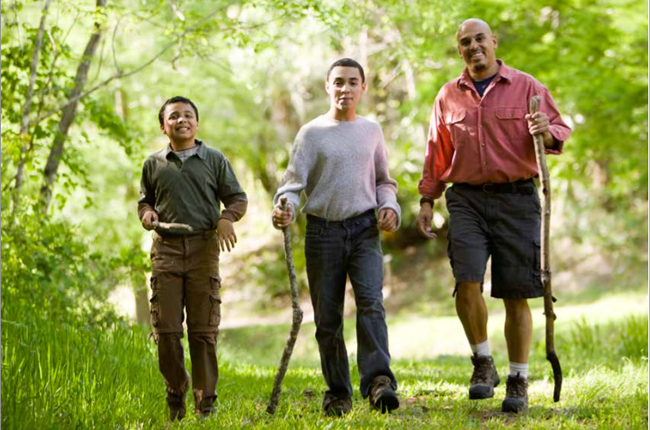 More than 17 percent or 55 million Latinos call the United States home. From east to west coast, New York to California, Latinos live in rural, urban, and suburban areas where they seek to maintain strong ties to nature and the environment.
Unfortunately, Latinos are increasingly finding it harder to access and stay in touch with nature. Whether through camping, hiking or playing in a local park, our neighborhoods have not seen the investments needed to give us access to green spaces that most other communities enjoy.
The importance of parks to Latino neighborhoods and communities cannot be understated. These green spaces not only contribute to the beautification and air quality of our cities and towns, but also provide space for informal community convening and facilitate neighborly connections that may otherwise go unmade. Moreover, parks make a direct economic impact to our neighborhoods in the form of greater real estate values and commercial contributions from local residents and visitors. Most importantly, investing in parks is a commitment to building community cohesion, pride and the overall quality life for Latino families and all Americans.
At the same time, the Latino community faces tremendous health disparities around chronic disease conditions, including obesity, diabetes, asthma and heart disease. While there are numerous reasons for these growing disparities, the significant lack of access to parks and green spaces throughout Latino neighborhoods is a prime contributing factor. In short, the health of our people is inextricably linked to the quality of the environment where they reside.
The 114th Congress has already begun debating these issues – most notably around the federal Land and Water Conservation Fund, which funds the creation of parks and will expire in September 2015, and the Antiquities Act, which gives the President authority to designate parks and monuments.
As the 2016 Presidential year is approaching, it is important for political leaders to understand challenges that face our community. As we have watched the electoral process unfold we have been heartened by the amount of attention that the candidates have been paying to Latino voters. But we worry also that while candidates may recognize that value of the Latino electorate, they may not fully grasp the scope of challenges that Latino families face across the United States. Among those, is our concern for the environment, access to green spaces and climate justice.
To inform policy makers on strategies to address this national crisis, we are proud to present Healthy Parks: Healthy Latinos, a pro le of successful parks projects across several states that have improved access to green spaces for Latinos and many other Americans. It is our hope that this report bolsters support for excellent federal laws such as the Land and Water Conservation Fund and Antiquities Act, but also spurns local interest in establishing similar green spaces across all 50 states.
THE CONNECTION BETWEEN PARKS AND HEALTH IN THE LATINO COMMUNITY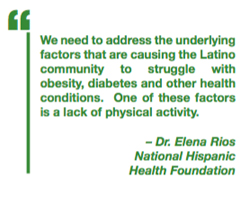 Almost 55 million Latinos live in the United States across rural, urban, and suburban areas. Hispanics make up a vibrant segment of the U.S. population, but many struggle with issues such as poverty, access to health care, education and a ordable housing. Latinos are also negatively a ected by a number of serious chronic health conditions - sometimes at much higher rates than the White population.


HEALTH CONDITIONS IN THE LATINO COMMUNITY
OBESITY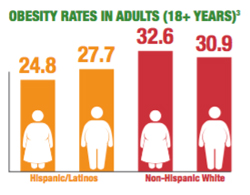 Approximately 42 percent of Latino adults are obese compared to approximately 32 percent of White adults and 22 percent of Latino children are obese compared to only 14 percent of White children.1 The overall life expectancy for Latinos is declining as a result of obesity and obesity-related health risks.
ASTHMA
OBESITY RATES IN ADULTS (18+ YEARS) Latinos face disproportionate exposure to asthma-inducing air pollution and have the highest rates of asthma in the country. Latino children are 40 percent more likely to die from asthma than non-Latino whites, and nearly 1 in 10 Latino children under the age of 18 suffer from this chronic respiratory illness
DIABETES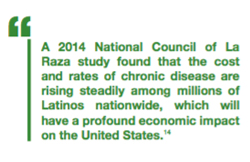 Latinos are 1.7 times more likely than Whites to be diagnosed with diabetes and it is the fifth leading cause of death for Latinos. An estimated 24 percent of adult Hispanics have diabetes and the rate of Type 2 diabetes in Latino children is increasing.
STROKE
Close to 3 percent of Hispanic adults have had a stroke and Hispanics are 30 percent more likely to have a stroke than Whites.
Hypertension
Hypertension – or high blood pressure -- is a major risk factor for heart disease and stroke. Among Hispanics who experienced a stroke, 72 percent had high blood pressure compared to 66 percent in non-Hispanic whites.
HEART DISEASE
Heart disease is the leading cause of death for Latinos.11 According to the American Heart Association, 48.3 percent of Hispanic men and 32.4 percent of Hispanic women aged 20 and over have cardiovascular disease.
A CONTRIBUTING FACTOR TO HEALTH CONDITIONS LOW RATES OF PHYSICAL ACTIVITY IN THE LATINO COMMUNITY
There are a number of contributing factors to the high rates of chronic health conditions in the Latino community, including inequities in healthcare, poverty, poor education and lack of access to healthy food choices.
One of these factors is that the Latino population is 30 percent less likely to engage in active physical activity than Whites.15 One study found that 56 percent of Hispanic adults did not meet federal activity guidelines compared to 44.1 percent of Non-Hispanic White adults.
A BARRIER TO PHYSICAL ACTIVITY: LIMITED ACCESS TO SAFE PLACES TO WALK, BIKE & PLAY OUTSIDE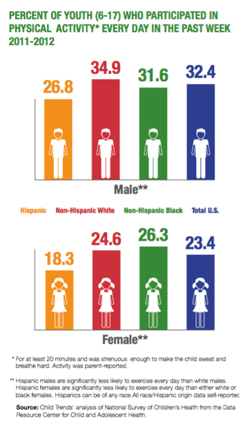 One of the barriers to increasing physical activity for Latinos is a lack of access to safe places to walk, bike and play outside. Only one-third of Latinos live within walking distance of a park compared to almost half of all Whites.
A Trust for Public Lands report found that "low-income neighborhoods populated by minorities and recent immigrants are especially short of park space....Lacking places for recreation, minorities and low-income individuals are significantly less likely than whites and high-income individuals to engage in the regular physical activity that is crucial to good health.






ONE SOLUTION FOR OUR COMMUNITY: CREATING MORE PARKS
To remove this barrier, we must continue to nd opportunities to create safe, accessible places for Latinos to be more active outside with their families. Many organizations focused on the well-being of the Latino community agree: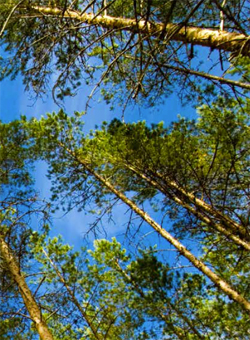 In 2010, the National Hispanic Caucus of State Legislators (NHCSL) held a summit to talk about the Latino obesity crisis. One of their recommendations was to "promote green space and parks development in public planning.
In 2013, the National Hispanic Medical Association and the National Hispanic Health Foundation issued a report that identified "limited outdoor space for parks" as a challenge for the Latino community. The report made a recommendation to "increase access to more parks, community gardens and walking areas.


SNAPSHOTS OF SUCCESS
This report offers some examples of parks and other outdoor spaces around the United States that are providing opportunities for Latinos to be more active, including:
Valle de Oro National Wildlife Refuge - Albuquerque, NM
La Villita Park - Chicago, IL
San Gabriel Mountains National Monument - Los Angeles, CA
Belden Trail - Brownsville, TX
Rocky Mountain Arsenal National Wildlife Refuge - Denver, CO
Kiel Ranch - North Las Vegas, NV
Sterling Forest State Park - New York
Click here to read full report…